DEMOGRAPHIC AND STATISTICAL FACTS ABOUT SCIENTOLOGY
SCIENTOLOGISTS' HEALTH
Scientologists make productive employees. Almost 75 percent report they are ill less often than they were before Scientology. More than half report that, in the last year, they did not miss any days of work due to illness, and over 85 percent miss less than the United States absenteeism average of almost 5 days missed a year due to illness.
A health-and-employee-benefits insurance expert reviewed the medical expenses for the 1,200 staff of the Church of Scientology International. He stated that its per capita medical costs ran between 10 percent and 20 percent of the national average.
What Has Your Absenteeism from Work Been in the Last Year?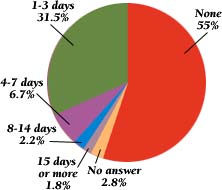 What Has Your State of Health Been since Becoming a Scientologist?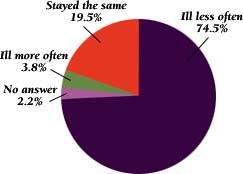 More statistical facts about Scientology